Laplanda AI system. Compact and powerful mechanism to convert the nature of interactions with the computer ability to become AI host.
Laplanda Theme Player allows to your child to communicate with one of the famous cartoon characters, have fun, play games and to learn a new things, such as the alphabet, basic math, the nature and much more. 
Laplanda Theme Generator creates your own database of the dialogues based on your child interests. 
 
How does it work?
* Use Laplanda Theme Player software and choose a Theme of the dialogue, then pair your computer with Bluetooth speaker with microphone and apply it to the favorite toy of your child and then let your child to enjoy talking with the toy.
* Use Laplanda Theme Generator and create your own dictionary with your child potential questions and recorded by you answers on them (up to 10 answers to each question that will be played randomly). Type a new question (unlimited numbers) and record your own answers on it (up to ten different answers per one question). Change your voice by using special voice transformation thumbs.
* Launch Laplanda Theme Player again, choose your Theme and watch how your child being pleasantly surprised that a toy knows answers to his/her new questions.
* Laplanda conversation algorithm based on Hidden Markov Chain math model and included its own API characterization. To create the realistic Theme you need to follow our instructions (included in the purchased download).
* The download includes the Theme "Lapa Happy Rabbit" voiced by famous Hollywood actor Artem Mishin. Your child will have a fun of real time conversation with "Lapa Happy Rabbit" character.
* For the best interactive experience insert the Bluetooth speaker with microphone to the toy. Now your child can play with a toy that becomes intelligent!  
* Laplanda unique speech recognition API allows reaching up to 90% accuracy.
* Laplanda Theme Player & Generator interactive software will be available for download immediately after the purchase.  
 
Please watch the video
 
PC requirements
Make sure your computer is running under Microsoft Windows operating system. We are currently fully supporting Windows 7, Windows 8 and Windows 10 both 32- and 64-bit versions. Laplanda AI packages may have limited or nor functionality for earlier versions of Microsoft Windows and we recommend upgrading it for seamless user experience.
 
Download and Installation
Immediately after payment you will be redirected to the download link. Please download this package:
Laplanda_Theme_Player_Generator_2020_Installer.zip
After the download please unzip and find in "Installer\Volume" folder the "setup.exe" file and run it.
This setup will install to your computer all necessary drivers and files. Follow the instructions for installation. When the installation is completed you will be prompted to restart the computer. After the restart you will find at your Desktop the Shortcut of your program located in "My Document\Laplanda" folder: Laplanda_Player&Generator_2020_001.exe
Launch as Administrator to be able to record your voice. Start using the Program.   
 
Thank you for using Laplanda!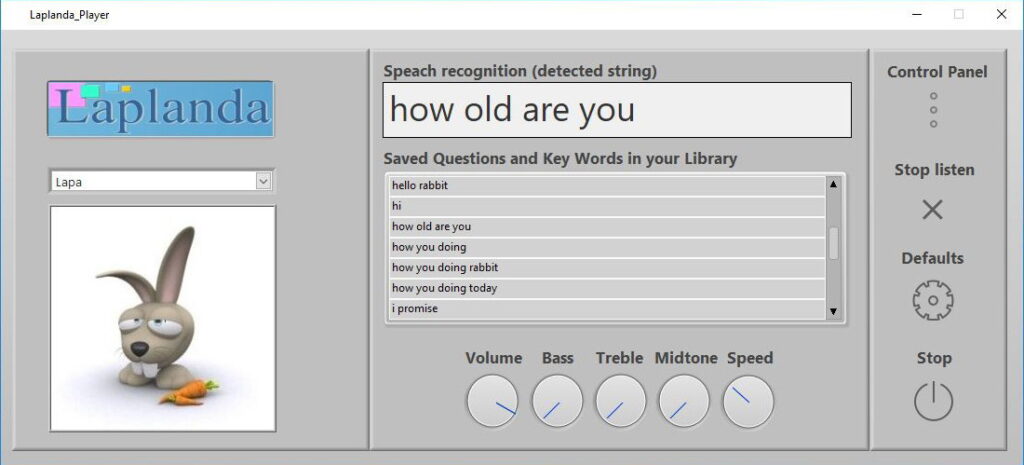 Laplanda Theme Player
Laplanda Theme Player is interactive software that allows your child to communicate with one of our cartoon characters, have fun, play games and learn new things, such as alphabet, basic math, nature and much more. Data base of Themes updates and grows daily. For best interactive experience connect the "Oontz" Bluetooth Boombox to any of your home computer devices, and attach the Boombox to one of your child's favorite toys. Now your child can play with a Toy that is Intelligent!
Laplanda unique speech recognition API allows to reach up to 99% accuracy. The Laplanda response depends on conversation's emotion, ambient parameters (time of the day, season, temperature, accseleration…) and Theme.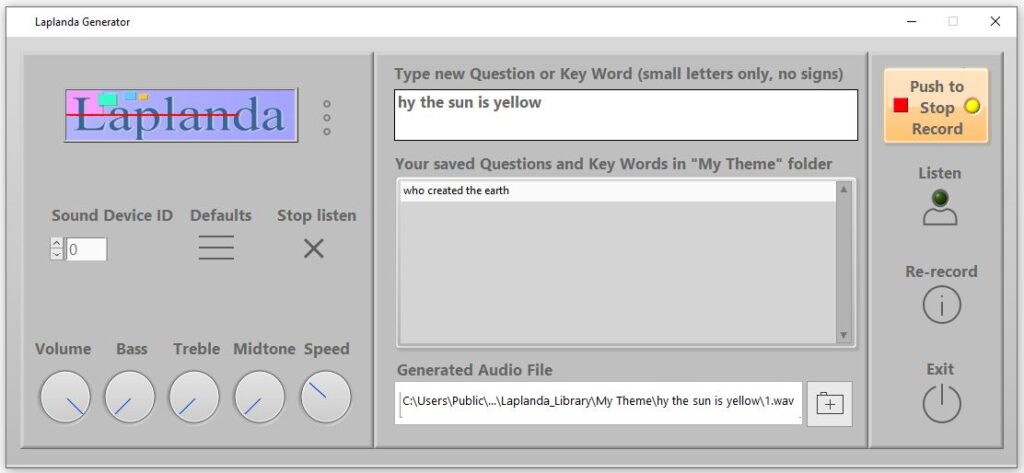 Laplanda Theme Generator
Laplanda Theme Generator allows you to expand vocabulary, based on your child's new questions and inquiries. Simply enter a new question in designated field of interactive window and record your answer. You can record up to 10 responses. The program picks an answer according to the algorithm and randomly, which excludes repetition and does not bore your child, who will be pleasantly surprised how quickly a toy can respond to her or his new interest!
Laplanda conversation algorithm based on Hidden Markov Chain theory and includes its own API characterization. To create the realistic Theme You need to follow our instruction